4 Things you should know about Clockspot:

Clockspot lets employees clock in or out from any computer or phone.
Which makes it perfect for businesses with multiple locations, or businesses with employees who work from remote job site, like cleaning companies, or home healthcare businesses.

Clockspot pays for itself. You will save 12 times the cost of your subscription, just in labor costs.
We surveyed our customers in 2009, and found that 98% of them saved at least 5 times what they pay Clockspot, just in labor costs. The average was 12 times savings, and the highest savings was 46 times the cost of their subscription!

Clockspot is web based. No software installs, free updates, access from anywhere.
You can manage your employees from any computer with internet. We're compatible with all major web browsers. We officially support both Mac and PC versions of IE7, IE8, Firefox, Safari, Chrome, and Opera.

Clockspot is used by thousands of businesses of all industries and sizes.
Mom and pop shops love us. Large corporations with thousands of employees depend on us. We have customers in all 50 states, and in over 20 different countries. Here are just some of the industries:
| | | |
| --- | --- | --- |
| Home Healthcare | Law firms | Government |
| Cleaning | Consulting | Non-profit |
| Manufacturing | Real estate | Education |
Thanks to Clockspot, I was able to relocate to Tennessee and keep track of my employees in Florida. Your site gives me the peace of mind I need to expand my business. Thank you!
Eliana Leal
Paramount Title Services, Inc.
Customer since 2009
Clockspot has saved me hours of time calculating payroll! My employees love its ease of use and ability to leave me messages regarding their hours and tasks. I would highly recommend Clockspot to any business. We have definitely received our money's worth!
Tracey Sutton
TSS Photography
Customer since 2009
5 Steps to get started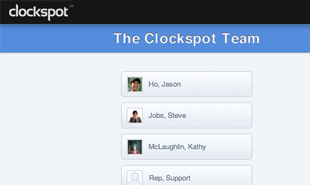 1. Log in from your dedicated login page.
When you sign up, your company is given a dedicated login URL. Employees go to this page to clock in/out, and managers go to this page to pull timesheet and payroll reports. Check out our demo account to see a live example.
FAQ
How do I bookmark my login page for easy access?

If you are using Internet Explorer, you can create a shortcut on your desktop by going to File -> Send -> "Shortcut to Desktop". For Firefox we recommend going to Bookmarks -> "Bookmark this page", and choosing "Bookmarks Toolbar" as the Folder to put the link in.

Note that you can not go to File -> "Save as" to save the link. Doing this will save your login page as a file on your local machine, and won't work when you try to open it.

I forgot my password. Can I retrieve it?

You can click on the "Forgot password?" link on your dedicated login page. This will take you to a page where you can type in your email. Once you submit, your password will be emailed to you.

Help! I can't get to my login page.

Make sure you are going to http://YourDomain.clockapp.com, where "YourDomain" is the domain name you chose when you created your Clockspot account. There shouldn't be any "www" in front of the URL, or anything after the .com.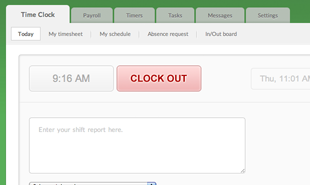 2. Employees clock in & out online or by telephone.
Once logged in, employees can click "Clock in" or "Clock out". They can select the job code, project, client, or task they are clocking in for. They can also write a shift report to describe what they did during that shift. To clock in by phone, read our phone clocking guide.
FAQ
Can employees clock in/out for lunch and breaks?

Employees can clock in/out as many times as needed for lunches and breaks. There is no specific "lunch in/out" button. Each time they clock in/out you will see a new row appear on the timesheet. You can then total these hours in your reports.

What if employees forget to clock in or out?

You'll be able to manually enter any previous time if employees forget to clock in. Employees can also request a timesheet edit request. This will show up on the timesheet beside their clock time. You can then choose to either approve or deny the edit request.

Can I restrict early clock ins?

Yes. In your Settings you can enable the option to "Prevent employees from clocking in earlier than their scheduled time". To edit a user's schedule, go to the Users tab, click on the user you want to edit, then scroll to the bottom of the page where you see the section to edit their schedule.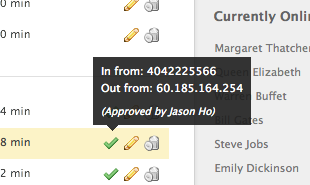 3. Control where employees clock in from.
You'll be able to see which specific computer, IP, or phone number an employee clocks in from. We call these clock locations "clockspots". You can create a list of authorized clockspots, so that employees can't clock in from home.
FAQ
How do I prevent buddy clocking?

Our best recommendation is to set the employee password to something information sensitive (don't worry, we encrypt passwords). This will discourage employees from sharing their passwords with other co-workers.

If your employees are clocking in by phone, we have a voice authentication option which will require employees to say their name before they clock in. You can then listen to this audio file later if there is a discrepancy.

Can I log in using a Blackberry or iPhone?

If you go to your login page using your Blackberry or iPhone, you will automatically be directed to the mobile web version of Clockspot. If not, you can go to it directly at http://YourDomain.clockapp.com/mobile.php, where "YourDomain" is the name of the dedicated domain you chose when you created your account.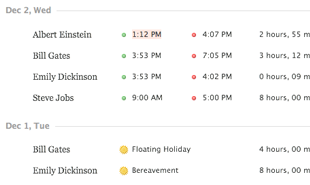 4. Manage employee timesheets online.
Add, edit, delete, or approve clock times. Jump to any date to review an employee's timesheet. You can also add absences and accrue paid time off (PTO). Managers can access their account from anywhere, anytime.
FAQ
Can I limit a manager's permissions?

You can set up different permissions for different managers. For example, you can give a manager the ability to approve clock times, but not edit or delete them. To do this, go to the Users tab, click on the manager you want to edit, then towards the bottom you will see the section to edit their permissions.

Can employees edit their own timesheet?

Employees will not be able to edit their own timesheet. However, they can submit a timesheet edit request to their manager for approval. Once a manager approves the edit request, the change will automatically be applied to the employee's timesheet.

To submit a timesheet edit request, the employee must go to Clock Time -> My Timesheet, and click on the Edit Request icon to the right of each clock time entry. You must first allow them to see their own timesheet by enabling it in your Settings.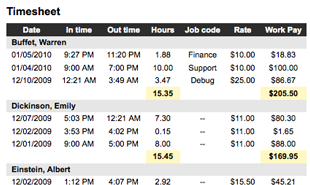 5. Generate payroll. Export reports to Excel or PDF.
Customize your report to show timesheet totals, overtime, where employees clocked in from, how many hours they spent on certain projects/clients/jobs, etc.
FAQ
How do I set up my pay period?

There is no setup involved. To get a payroll report, simply go to Reports -> "Generate payroll" and choose the start date and end date of your pay period. You will also see options for overtime calculation, adding tips and bonuses, automatically deducting a lunch break, etc.

Can I export to Quickbooks?

We currently do not directly import into Quickbooks. However, we do export to Excel format, which you can use to import into Quickbooks.